March 13, 2020
Women's History Month Employee Profile – Janice Lansing
Continuing Zynga's honor of Women's History Month, we would like to introduce Janice Lansing, the Senior Director of Business Operations for Zynga's Casino Match division.  She joined Zynga after starting her career in finance at a pharmaceutical company, and was introduced to gaming through a position at Electronic Arts. Janice helps drive the operating performance of the Social Casino and Match-3 businesses, all focused on creating the best experience for players.
Read on to learn more about Janice!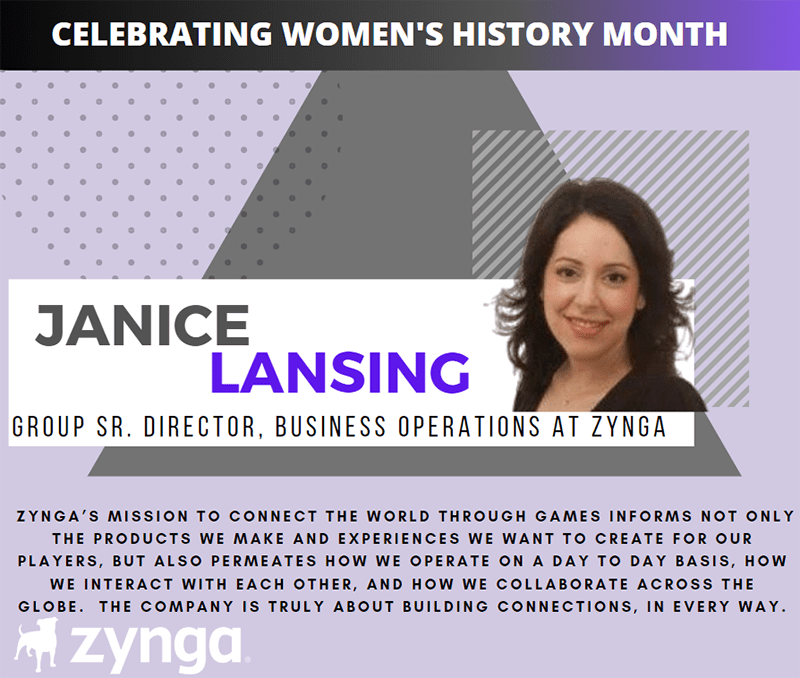 How does the mission shape the company culture? 
Zynga's mission to connect the world through games informs not only the products we make and experiences we want to create for our players, but also permeates how we operate on a day to day basis, how we interact with each other, and how we collaborate across the globe.  The company is truly about building connections, in every way.
How would you describe the people within Zynga? 
The people at Zynga are smart, driven, accomplished individuals who are united around a common mission.  I'm inspired every day by the creativity, skill and acumen that goes into making our games.  A lot of the talent are seasoned veterans in the industry and top in their field.  With over half of our players being female, Zynga also values women's opinions and diverse perspectives, and strives to create as inclusive an environment as possible.
What is your role at Zynga?
As the head of business operations for Casino Match, I wear many hats and no two days are alike.  My core responsibilities are essentially planning, strategy execution and organizational performance for a large organization across 7 locations.  I work with some remarkable team members and partners, in and out of our org, to get things done…It takes a village.  At the end of the day, my job is to make sure we are executing on our org's top strategic priorities, to move the business forward and drive results for Zynga.
Tell us about joining WAZ (Women At Zynga) and what the group has brought to you and your career?
WAZ is an amazing group that focuses on fostering a positive community of empowering women, providing a forum to build connections (there it is again!), support each other and strengthen leaders, through compelling programs, events, workshops, and trainings. It's a truly special organization within Zynga and unique in the industry.
Do you have any mentors or leaders that have helped or inspired you throughout your career?
I've had a lot of great mentors and leaders that have inspired me throughout my career, and I've had the added benefit of many of them being my direct managers.  What has motivated me in their style of mentorship and leadership is that they have challenged me in healthy ways, have recognized my work, have guided and supported me in my career development and advancement, and have been incredibly smart which has taught me a lot and driven me to further up my game.
What role have men played in your career and/or what role do you think they can play in women's career equality?
I've been blessed throughout my career to have had some amazing male leaders and role models, and they have all been strong supporters and champions of women.  They've been valuable advisors, advocates, and trusted partners that have deeply influenced my trajectory, not only at work but also in life.