February 7, 2020
Employee Profile – Ian Osawaye
This month, Zynga is celebrating Black History Month by spotlighting employees who work in all divisions of the business to make our products as inclusive and diverse as the people who play and engage with our games every day. Kicking off our employee spotlight is Ian Osawaye!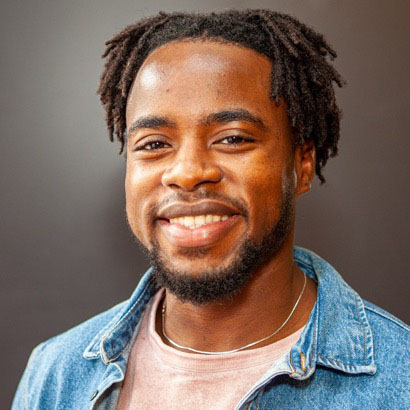 Ian is based out of Zynga's Toronto office and is a Software Engineer on the Words With Friends team. He was the youngest intern to ever join Zynga and returned in a full-time capacity after graduating from the University of Waterloo's Computer Engineering program. Ian now co-spearheads Zynga's Black Employee Resource Group in Toronto, where he helps to foster a community that enables employees to have open and honest conversation about their mindsets in the workplace and create opportunities outside of Zynga's walls, bridging the gap within the black tech presence.
Read on to learn more about Ian's path to Zynga and how he's grown within the company.
What is your role within the engineering team?
I work primarily on the native engineering team. My role is architecting and building out different features to engage our players. My pod specifically works on features that target growing our Words With Friends audience to reach different groups. I also recently got involved with mentoring interns so it's really cool being on the other side of the table.
Tell me how the company supported your growth into a full time role.
Zynga was truly supportive throughout the process. During my internship, I was given the same kind of responsibilities that full-timers had. This enabled me to grow as an engineer and start to imagine what full-time life would be at Zynga. Towards the end of my internship, I expressed my interest in returning in a full-time capacity, and, during my final school term, I got an offer letter for coming onboarding full-time. That was a very exciting moment for me.
What is the overall mission of the engineering team?
We desire to build a solid tech foundation that's stable and scalable with feature needs but also enabling us to streamline the process of working with our design teams. The engineers I get to work with on a daily basis are very intelligent people but more than that, they are very supportive of each other. Each person on the team has his or her own unique personality, strengths and weaknesses, but we're like a little family that compliment each other and have fun solving problems!
How does it feel when you see your work in a real life setting?
It feels amazing when I meet people that play Words With Friends with a loved one or hear stories of how the game has impacted lives. A lot of these people have created rituals with friends, families and even strangers. It now becomes a way for people to stay in touch, and it re-enforces the reality that we're truly building a product that connects people from different backgrounds. It's also great to hear about the pain points they face with our game as it shows how they engage with different parts of it. This feedback is great as it gets incorporated to create an even better product.
Why is Zynga a great place to grow as an engineer?
It's great to grow as an engineer here at Zynga because you're truly supported in your development and allowed to progress at your own pace. We also try to stay up to date with best practices in the industry to ensure we're building with proven techniques and patterns.
 What is the Black Zynga Union in Toronto? Why is it important to you and your work?
BZU, as we call it, is an employee resource group that aims to foster and engage community at Zynga where employees of color and their allies can connect on issues they may experience in the workplace, have open and honest conversations, and ultimately have a safe space where you can truly be yourself with others. It's important to me because as part of a minority group, it can be easy to lose yourself and conform to the majority representation. However, I believe it's important for minority groups to be able to fully express and bring all the things that make them unique to the table. It's truly a super power when you're different because you tend to see things from a different perspective than others do, so it's important to promote and leverage these differences in the workplace.
What are you most excited about for the future of the company?
I'm excited to see how we innovate and stay relevant in this space while still delivering on our mission of connecting the world through games.