February 25, 2021
Black History Month Employee Spotlight — Aaliyah Sowards
To honor this year's Black History Month, Zynga is spotlighting employees who work in all divisions of the business to make our community and products as inclusive and diverse as the people who play our games. We are excited to feature Aaliyah Sowards, a Revenue Accountant on our Finance team!
Aaliyah joined Zynga in June 2020 and despite the physical distance due to the pandemic, she says she can feel that this is a caring and close-knit community. Through the support of her team, the execs she has met along the way and her involvement in the Black Zynga Union (BZU), Aaliyah expresses that she feels encouraged as a leader in the Black community. Aaliyah also shares that to her, being a woman of color in the gaming industry means setting an example for other young women to show that it can be done and they can achieve their goals, regardless of any obstacles.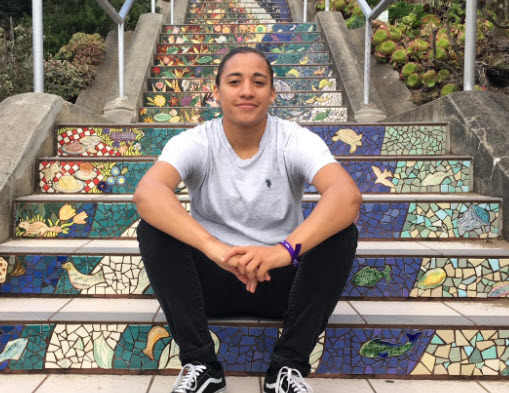 Continue reading to learn more about Aaliyah, her day-to-day as a revenue accountant here at Zynga, the people who have inspired her throughout her career and the role that male allies have played in supporting her professional development.
What is your role within Zynga and how did you get here?
I started working at Zynga in June 2020 on the Revenue Accounting team within the Finance department. Prior to joining, I began my career as a financial auditor.
Tell us how you came to join Zynga.
During the start of the pandemic, I decided to make the jump from public accounting to industry. Coming from the world of public accounting, specifically external audit at Deloitte, I wanted something new, fun, and refreshing. I found the opportunity at Zynga through a former coworker turned recruiter and through interviewing, had earned the position.
Tell us a little bit about your background.
I grew up in the North Bay (Santa Rosa) in California. From there I went off to play college basketball at a small business school based in Silicon Valley. While attending Menlo College I majored in Accounting where I participated in 2 internships with my former employer, Deloitte. After college I was fortunate enough to have a job in public accounting, which led me here 3 years later.
Aside from that, family and community is extremely important to me. Growing up I played sports which taught me a lot about myself and the world around me. I've been fortunate enough to have great people around me my whole life and the opportunities that I did have, I took advantage of.
What is your role at Zynga? Walk us through your typical day.
My role is the Revenue Accountant within the Finance department. We work cross-functionally with other teams such as sales, game teams, legal, etc. in order to understand the logistics of deals and contractual terms, or how games operate to generate revenue for the company. Some of my responsibilities include testing specific games (e.g. WoZ Slots) to ensure that paid features within the game are functioning properly. Other tasks include contract review of Zynga ad deals and determining royalties paid out for games and licenses.
How would you describe the people within Zynga?
There is a very caring culture here at Zynga. Since I started, I've met so many people who truly care about social causes, not only in the Bay Area, but around the world. This is a close-knit community despite the distance due to the pandemic, which is awesome to feel through my computer screen. Everyone is welcoming, encouraging, and dedicated to their own craft here at Zynga.
How does it feel when you see your work in a real life setting?
Growing up I played Zynga games so working here is actually pretty cool. I was a huge fan of Words with Friends in high school, playing religiously at times. When I tell friends or family where I work and mention games like Farmville or WWF, they get excited and want to talk further. I love being able to throw a name like that out and having people know who or what I'm referring to.
Tell me how the company supported your growth?
Since I started working I've been supported on all levels: from my team to BZU and even some execs I've met along the way. Because the culture is so tight and caring, the support is even deeper and I've been able to feel that from all angles. I've really been encouraged as a leader in the Black community, inspired by many other great leaders working within Zynga. I am able to voice my ideas and opinion without judgment and receive excellent feedback in my pursuits.
Do you have any mentors or leaders that have helped or inspired you throughout your career?
Throughout my life, I have been inspired by both my mother and grandmother the most. Our family's work ethic stems from my grandparents who had a big helping hand in raising my siblings and me. From an early age, I saw that hard work, communication, and patience can get you the things that you want, eventually. Both women have exemplified what it means to be strong in a man's world and always seem to come out on top no matter what the obstacle. In my hardest moments, I go to either my mother or grandmother for advice and to just talk about the way I'm feeling, which helps a ton. Not only do they support me, but they also challenge me to be better every single day.
Tell us about joining the BZU and what the group has brought to you and your career?
Joining BZU has taught me that I don't need to know or understand everything in my people's history or culture to make an impact. The beauty of this group is that we can all be real with one another, no matter how difficult the conversation. It has also given me another chance to reflect on what is most important in my life: community and service. Being surrounded by great leaders is uplifting, encouraging, and inspiring. In addition, feeling represented within my company by being a part of BZU feels amazing.
What does it mean to you to be a person of color in technology and gaming?
Being new to gaming has shown me the lack of diversity within the industry, which is all across the board when it really comes down to it. Since starting in the tech/accounting industry I've realized that people of color are just not granted the same opportunities. I feel so lucky and privileged to be a woman of color in the position that I'm in every single day. For me, it means going out there and representing, not only for my people but for young women just like me who have had opportunities to thrive and have taken advantage of those opportunities in order to show that it CAN be done. Being a woman of color in the industry means showing the youth that it is very possible to achieve your goals, no matter the obstacle.
What role have men played in your career or what role do you think they can play in women's career equality?
Men have been some of the most dedicated and loyal allies in my career. Trust and respect are important to establish early on so I tend to foster these qualities in order to create connections with those around me. I have found that when male counterparts trust my judgment and character, as well as gaining one another's respect, that the relationship not only feels equal but I feel empowered; empowered to make decisions, lead with a louder voice and take charge of situations. Not only have I had men advocate for me within my career, but they have also provided important feedback so that I can grow stronger and understand what it takes to level up in life and my career. I've created some of the most genuine bonds with my male counterparts that I'm extremely thankful for. Men play the most crucial role in women's equality, especially in the workplace, as they are our strongest allies.