February 6, 2020
Studio Spotlight – Words With Friends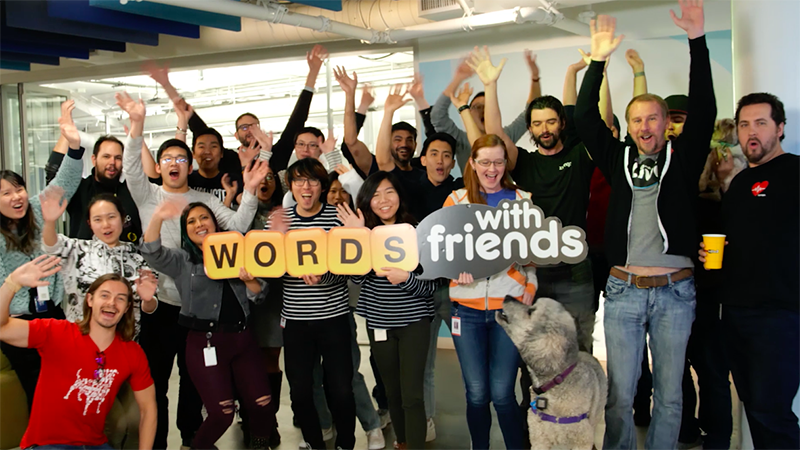 Since launching in 2009, Words With Friends has become the world's most popular mobile game with over 279M players challenging their friends, family members and strangers to lay down their letter tiles. Over the years, the games team has partnered with mega stars like actor Alec Bladwin and musician Garth Brooks, as well as non-profits such as the American Cancer Society and Susan G Komen(R), a non-profit breast cancer awareness organization. Their work with Susan G. Komen raised over $100,000 for breast cancer research through a  "Play Pink for the Cure" campaign, earning them the 2019 Halo Award in the "Best Digital" category.
In 2019, Words With Friends celebrated their 10th Anniversary and noted over 687B tiles played, which is equivalent to 17 times to the moon and back! They've developed their platform to offer exciting new ways for players to interact with Words With Friends any time, anywhere – through themed tiles, events, Solo Challenges, and Lightening Duels.
But Words With Friends is not just about finding a killer word that scores triple points, it has become a social platform that bridges people around the globe in different stages of their lives. Words With Friends has been credited with connecting marriages, life-long friends, estranged family members, coordinating proposals, and even saving lives.
"In making Words With Friends, we really touch people's lives on an everyday basis – from people finding their life partners to moms keeping touch with kids across the globe to finding their long-lost cousins and friends who they have not spoken to in 10 to 15 years," says Deepthi Menon, Senior Vice President of Words With Friends. "This is a game that truly connects the world. There is a lot of personal impact this game makes and when I try to fathom or extrapolate the number of people that we affect every day – I feel like there's real meaning to what we do and real impact to the game we make. This is what keeps me and the game team ticking, and makes our work matter every day."
Meet Deepthi and the rest of the Words With Friends team in our Studio Spotlight video below!