February 7, 2020
Pocket Gamer Connects London Recap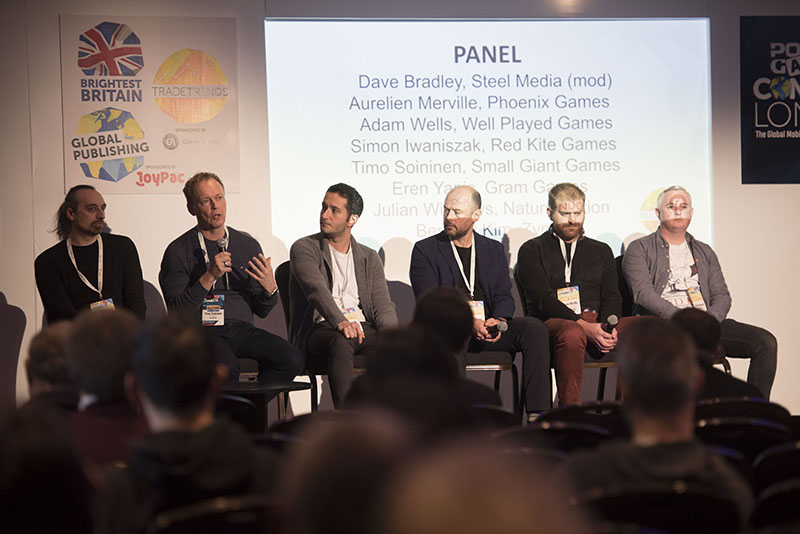 On January 20th, Zynga's studio leaders Timo Soininen (Small Giant Games), Eren Yanik (Gram Games), and Julian Widdows (NaturalMotion), took to the stage at the 7th Annual Pocket Gamer Connects London conference to talk about the process of mergers and acquisitions for the "Integrating an Acquisition into Your Business" panel.
Steel Media COO Dave Bradley moderated the discussion with our studio heads alongside  Adam Wells (Well Played Games), Simon Iwaniszak (Red Kite Games), and Aurelien Merville (Phoenix Games), for a lively conversation about the benefits and pitfalls of acquisition, the opportunities to look out for as well as those to be aware of, and the interworking of why studios decide to sell and why some continue to operate independently.
"Be very clear about what you want to happen to your company," said Zynga's Timo Soininen advising a very engaging audience seeking acquisition advice. "If you want to get bought then be very clear about your positioning and what potential gap could be filled in the acquiring company's portfolio so that you fit in. It's also important to have very clear business metrics that you can prove and that can actually be sustainable."
Pocket Gamer Connects London saw more than 2,500 delegates gather for a choice schedule of 300 speakers from the gaming community, including Alexander Krug (CEO, Soft Games), Debbie Bestwick (CEO, Team 17) and Tony Pearce (Co-founder, Reality Gaming Group), across 25 speaker tracks. The two day event, touched on everything from Mobile, PC, and blockchain, to the influencer marketing scene, studio growth, design and development tips, and company culture.
Pocket Gamer closed the conference with its 3rd Annual Mobile Games Awards, hosted by Pocket Gamer CEO Chris James. Following a successful year, Zynga was honored with nominations in two categories – "Best Live Ops" for Empires & Puzzles and Merge Dragons!, and "Best Marketing Team" for Zynga. Small Giant Games' Empire & Puzzles took home the win for "Best Live Ops, and Zynga's President of Publishing Bernard Kim was honored with the prestigious "Mobile Legend" Award for his career in gaming.