February 24, 2020
Hugh Grant Q&A
We sat down with Zynga Poker Ambassador Hugh Grant to learn more about the tricks of the trade and how poker has changed his life. Hugh is one of the top-ranking Zynga Poker players and currently on the poker circuit trying his hand at a tournament title. He recently played in the Zynga Poker WPT 500 in Las Vegas! Check out below what Hugh has to say about tells, playing online vs. IRL and how online poker has made him a stronger player.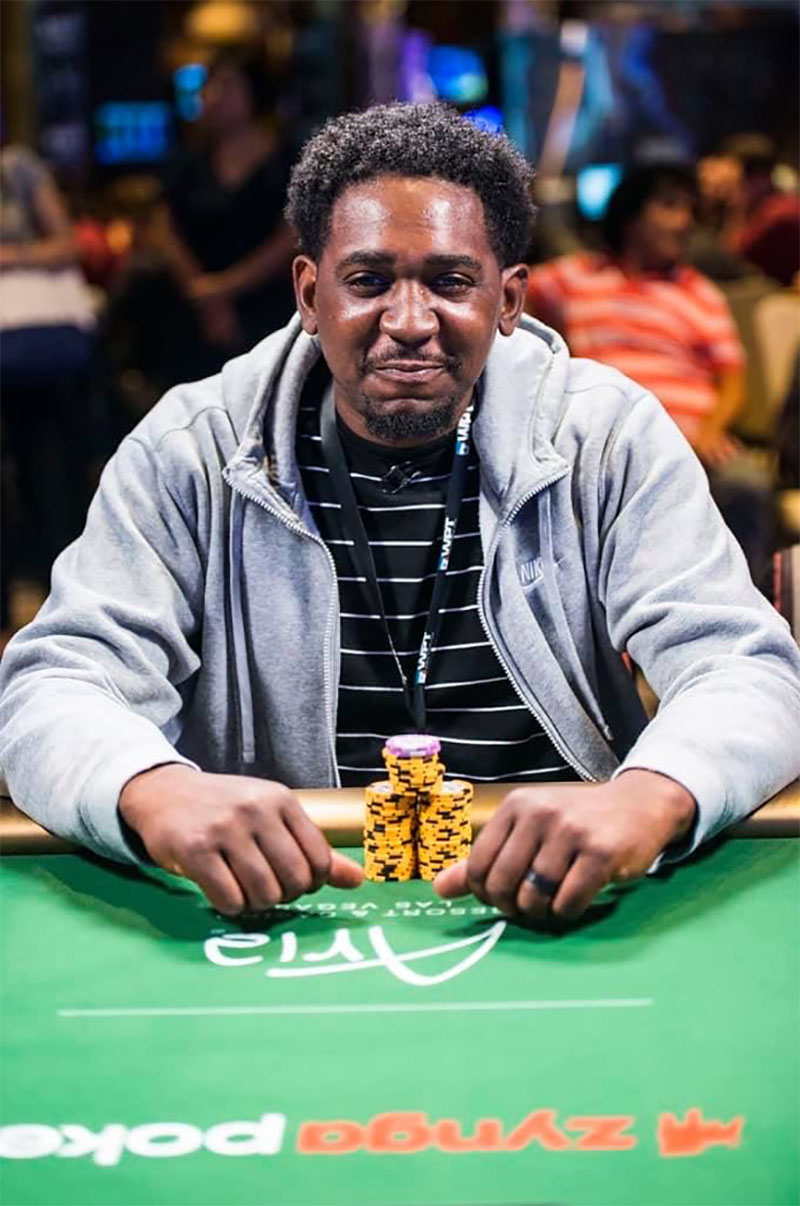 Tell us what you do outside of Poker?
As an academic advising assistant director at Emory University, I meet with undergraduates, primarily pre-med, and help them plan their academic coursework in preparation for medical school. I began advising when I was still an undergraduate myself at Ohio University. I enjoyed the work, and knowing that I wasn't going to pursue a professional athletic career in either football or basketball (I was a two-sport athlete during my tenure at Ohio) I realized that academic advising was a career I wanted to pursue.
How did you become a Zynga Poker brand ambassador?
I love a friendly game of competition. Since I no longer played competitive sports after I graduated from college, I needed to find a new hobby that allowed me that same amount of fun and challenge. I spent a couple of evenings a week after work at the nearest sports bar, and they had these smart devices filled with poker apps to play. Online poker is how I learned to play the game. Soon I was playing poker every chance I could, and I began to win.
I shared this with a good friend of mine and she invited me on a trip to Las Vegas to test my skills. It was on that trip that I played my very first live poker game, and I won! We used the winnings during that trip and had a great time. Fast forward and this good friend is now my wife and we have a little one on the way. I took a hiatus from playing in tournaments after our daughter was born, but I couldn't kick the urge to play completely. So, I started playing Zynga Poker. Soon I was winning games again and I qualified for a VIP tournament. I was a top 10 finisher, coming in 8th place. It was my very first World Poker Tour (WPT) tournament. It was a very cool experience, and that's when I said, hey, I'm pretty good at this. What can I do to keep this going? After that, I was asked to be Zynga Poker's first brand ambassador.
Has being a Zynga Poker brand ambassador influenced your work life?
After I became a brand ambassador my colleagues at the university took an interest, and asked me to lead coaching sessions for interested students. Individual students and school clubs set up appointments with me, usually before they're heading to Vegas for a fun weekend, and ask me to share tips and tricks of the trade. We're actually working on offering poker as a course, it's all very exciting!
What are the differences between online and IRL poker games?
The main difference, especially when you play online, and I've said this before: when you embarrass yourself, you can leave the room immediately (laughs.). If you make a faux-pas at the felt, you have to sit there and take it. Playing online also shields you from showing your physical tells. But despite not being able to read body language, you can still make an assessment of your competitor's bluffing based on patterns. Just as an example, if an online player is making bets at an alarmingly fast pace, then they likely have a bad hand. It's that confidence level you call into question. If they're moving at an unusual speed, you know something's up.
How has playing mobile poker made you a better player?
Playing Zynga Poker has definitely made me a stronger player. Like with anything in life, practice makes perfect. I play Zynga Poker as much as I can, always in an effort to get more hands in, to get that extra practice. My motto is give me two cards, and that's what Zynga offers.
You're participating in the WPT Hard Rock Seminole in May. How are you feeling about the competition?
To be honest, I'm really excited. I had the opportunity back in December to play in another Hard Rock Seminole tournament and that was my first-ever WPT event of such magnitude. While I didn't finish in the place I had hoped, I learned a great deal about how I play and have continued to hone my skills so I can bring my A-game come May.
To be able to participate in this tournament with other Zynga players is amazing. It's a chance to discuss poker with other players and learn by experience together. The fact that we get to attend a workshop taught by Tony Dunst, a WPT commentator who has literally won millions of dollars competing will be just a really cool experience. It's like meeting a hall of famer!
What advice do you have for players who have never played in a professional poker tournament?
Experience is the best teacher. I spoke to this earlier, but it definitely bears repeating: be mindful of the tells you have that no one gets to see online. When it comes to your body language, your eye contact and your pace, you need to make sure you're not giving yourself away – you're being watched at every move. A WPT tournament isn't a race, it's a marathon. Take your time, get a feel for the atmosphere and the folks you're playing. Remember – you don't win until the end.
Thank you for your words of advice, Hugh! Make sure to follow Hugh on Instagram and Twitter to catch up on his latest tips and tricks!