August 10, 2020
Ooh wee! – Rick and Morty Return to Merge Dragons in their Final Adventure!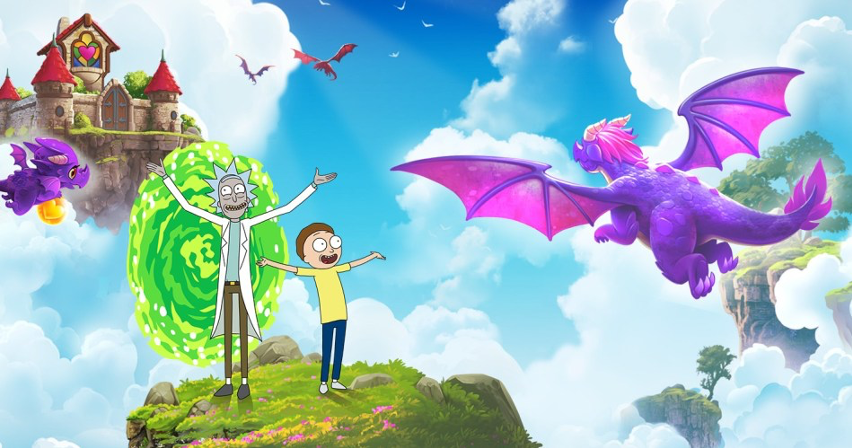 This Event Brings More Treasure, Creatures, Portals and of course New Adventures – Time to Get Schwifty One Last Time!
WHAT:
Gram Games ("Gram"), a subsidiary of Zynga Inc. (Nasdaq: ZNGA), a global leader in interactive entertainment, reveals that once again Rick and Morty are returning to Merge Dragons! in a special live event called Mortyablo Deja Moo taking place on August 7th, lasting until August 10th, 2020. The latest event will wrap up the successful in-game series with Adult Swim's award-winning show Rick and Morty™.
In the final event, Rick and Morty travel through a strange red portal, which Rick pronounced to be completely safe, only to find themselves ambushed by bovine creatures. Rick wants the treasure that they are protecting, a very cool looking statue of a garden gnome, while Morty just wants this adventure to end already. Join the wacky duo in the concluding part of their adventure in Merge Dragons!.
QUOTE
"The reaction to the partnership between Merge Dragons! and Adult Swim has been a great experience which is why we wanted to make sure the final chapter in the duo's story is special," said Eren Yanik, Chief Product Officer at Gram Games. "We also want to thank all the fans for their continued support and we hope they enjoyed all the twists and turns that the beloved Rick and Morty characters experienced in Dragonia."
Merge Dragons! is available to download free on the App Store for iPhone and iPad, as well as Google Play. For more information about Merge Dragons!, visit the game's community channels on Twitter, Facebook, Instagram, and YouTube.
WHO
Zynga is a global leader in interactive entertainment with a mission to connect the world through games. To date, more than one billion people have played Zynga's franchises including CSR Racing™, Empires & Puzzles™, Merge Dragons!™, Merge Magic!™, Toon Blast™, Toy Blast™, Words With Friends™ and Zynga Poker™. Zynga's games are available in more than 150 countries and are playable across social platforms and mobile devices worldwide. Founded in 2007, the company is headquartered in San Francisco with locations in the U.S., Canada, U.K., Ireland, India, Turkey and Finland. For more information, visit Zynga or follow Zynga on Twitter, Instagram, Facebook or the Zynga blog.
ABOUT ADULT SWIM
Adult Swim, launched in 2001, is a WarnerMedia network offering original and acquired animated and live-action series for young adults. Airing nightly from 8 p.m. to 6 a.m. (ET/PT), Adult Swim is the #1 network with persons 18-34 and 18-49 and is seen in 94 million U.S. homes.
ABOUT GRAM GAMES
Gram Games is a mobile game development studio, committed to delivering high quality social games that create real bonds through play. Founded in 2012, and acquired by Zynga in 2018, Gram Games has built a team of industry professionals focused on creating engaging games for mobile platforms in their London and Istanbul studios – including Merge Dragons!, Merge Magic! and 1010! For more information, visit www.gram.gs.
FORWARD-LOOKING STATEMENTS
This message contains forward-looking statements relating to future game events and features. Forward-looking statements often include words such as "plan," "intend," "will," "expect," and statements in the future tense are generally forward-looking. The achievement or success of the matters covered by such forward-looking statements involves significant risks, uncertainties and assumptions. Undue reliance should not be placed on such forward-looking statements, which are based on information available to us on the date hereof. We assume no obligation to update such statements. More information about these risks, uncertainties and assumptions is or will be described in greater detail in our public filings with the Securities and Exchange Commission (the "SEC"), copies of which may be obtained by visiting our Investor Relations website at http://investor.zynga.com or the SEC's web site at www.sec.gov.
CONTACTS
Jonathan Lopera
jlopera@zynga.com
Iga Kowacka
ikowacka@zynga.com