July 24, 2020
Merge Dragons! Celebrates 3rd Birthday!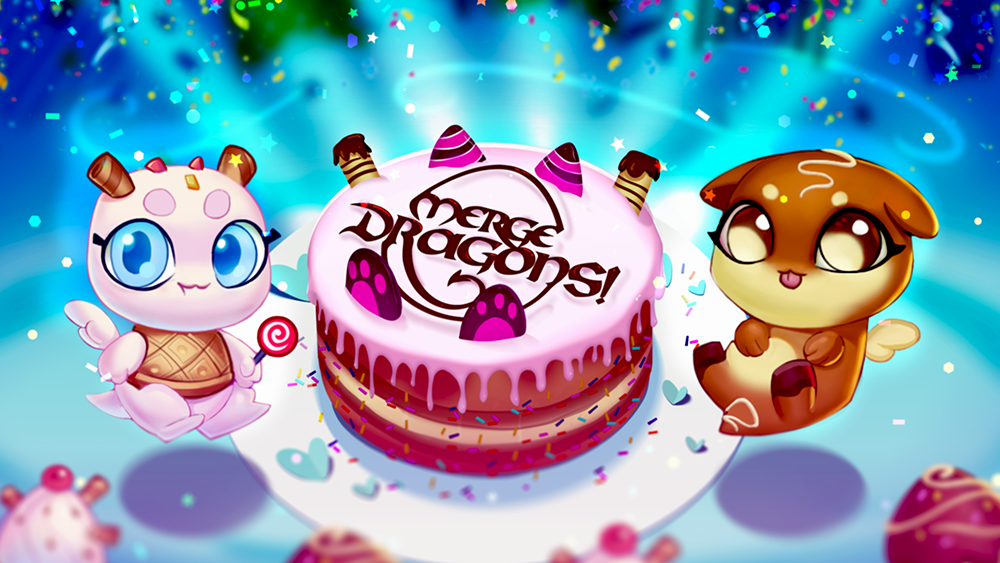 Prepare Your Sweet Tooth – Celebrations Starting Today with New Dragons, Items and, of course, CAKE!
WHAT:
Gram Games ("Gram"), a subsidiary of Zynga Inc. (Nasdaq: ZNGA), a global leader in interactive entertainment, cordially invites you to celebrate Merge Dragons!' 3rd birthday! To commemorate this special occasion players can expect sweet, dessert themed dragons, and beautiful crystal items provided in a special new in-game event. Starting July 24th, the event will feature the lovely Nilla Dragon and the tasty BonBon Dragon who will dive into the fun.
Merge Dragons! is a puzzle adventure game where players are tasked with healing a magical land, harnessing the power of dragons, solving fun puzzles and building your camp to grow dragons. It's a game where everything can be matched and merged to produce unique artifacts and skills – dragon eggs, trees, treasures, stars, magical flowers and dragons themselves. Everything interacts and helps players overcome magical, mysterious puzzles.
QUOTE:
"Today is a special date here at Gram Games, for us, Merge Dragons! has been a key game that continues to inspire creativity and joy among our team." said Eren Yanik, Chief Product Officer at Gram Games. "So for this event we're having a little fun with the cake theme, hoping we can give our fans the sweetest slice of paradise."
Merge Dragons! Is available to download free on the App Store for iPhone and iPad, as well as Google Play. For more information about Merge Dragons!, visit the game's community channels on Twitter, Facebook, Instagram, and YouTube.
WHO: 
Zynga is a global leader in interactive entertainment with a mission to connect the world through games. To date, more than one billion people have played Zynga's franchises including CSR RacingTM, Empires & PuzzlesTM, Merge Dragons!TM, Merge Magic!TM, Toon Blast™, Toy Blast™, Words With FriendsTM and Zynga PokerTM. Zynga's games are available in more than 150 countries and are playable across social platforms and mobile devices worldwide. Founded in 2007, the company is headquartered in San Francisco with locations in the U.S., Canada, U.K., Ireland, India, Turkey and Finland. For more information, visit www.zynga.com or follow Zynga on Twitter, Instagram, Facebook or the Zynga blog.
About Gram Games
Gram Games is a mobile game development studio, committed to delivering high quality social games that create real bonds through play. Founded in 2012, and acquired by Zynga in 2018, Gram Games has built a team of industry professionals focused on creating engaging games for mobile platforms in their London and Istanbul studios – including Merge Dragons!, Merge Magic! and 1010! For more information, visit www.gram.gs.
Forward-Looking Statements:
This message contains forward-looking statements relating to future game events and features. Forward-looking statements often include words such as "plan," "intend," "will," "expect," and statements in the future tense are generally forward-looking. The achievement or success of the matters covered by such forward-looking statements involves significant risks, uncertainties and assumptions. Undue reliance should not be placed on such forward-looking statements, which are based on information available to us on the date hereof. We assume no obligation to update such statements. More information about these risks, uncertainties and assumptions is or will be described in greater detail in our public filings with the Securities and Exchange Commission (the "SEC"), copies of which may be obtained by visiting our Investor Relations website at http://investor.zynga.com or the SEC's website at www.sec.gov.
Zynga Media Contact:
Jonathan Lopera // Iga Kowacka
jlopera@zynga.com // ikowacka@zynga.com